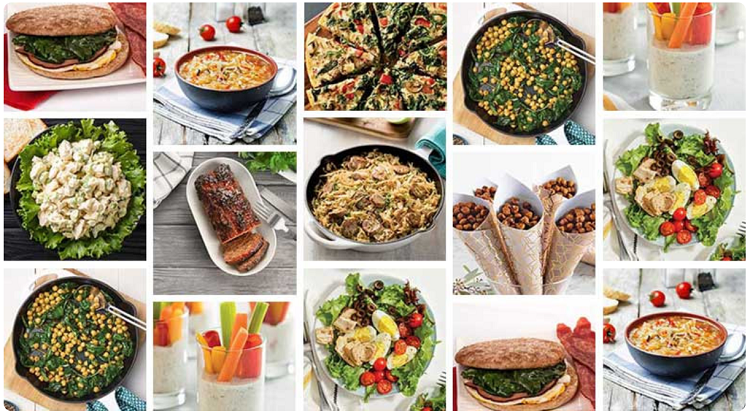 Budget-Friendly Meal Plan and Tips
Cooking more meals at home is a great way to save money and eat healthier, but it can be challenging to plan, shop, and prepare meals every week. To help, we've come up with a budget-friendly meal
Find recipes that use similar ingredients to avoid waste. You can also buy in bulk quantities for a lower unit price.
Save leftovers from dinner for lunch the next day. Before you plate your dinner, set a serving aside in an airtight container for lunch tomorrow. You could also make "planned-overs"—double a recipe to make sure you have leftovers for lunches or other meals later in the week.

Check your pantry and fridge, and plan meals around what you already have on hand. As you're looking at recipes, see if you can sub any of the ingredients for something you already have on hand.

Buy meats in bulk when they are on sale. You can separate and freeze them in smaller quantities at home

Cooking more meals at home is a great way to save money and eat healthier, but it can be challenging to plan, shop, and prepare meals every week. To help, we've come up with a budget-friendly meal plan featuring quick and easy recipes for breakfast, lunch, dinner, and snacks. Plus, we've included some meal planning tips for reducing food waste and sticking to your budget.
Check out the recipes below to kickstart your budget-friendly meal planning! You can fit these recipes into your weekly meal plan in whatever way works best for you. Use the interactive Meal Planner on Diabetes Food Hub to plan out your week. Once you have created your free account, you can save recipes, then drag-and-drop them into your meal plan.
Dinner
Chicken Sausage and Cabbage Skillet
This quick dinner comes together in less than 30 minutes—simply sauté shredded apples and cabbage with pre-cooked sausage links for a simple, tasty entrée. Pair with a simple vegetable side, like Roasted Baby Carrots, Skillet Caraway Cornbread for a complete meal.
Hearty Cabbage Soup
The key to budget-friendly meal planning is to not waste any ingredients! Use the other half of the cabbage from the Chicken Sausage and Cabbage Skillet to make this comforting vegetable soup. The recipe calls for turkey breakfast sausage, but you could also use the same chicken sausage you used in the cabbage skillet if you have some leftover. Pair with Rustic Red Potatoes and Green Beans for a complete meal.


Herb Garlic Meatloaf
For a comforting "meat-and-potatoes" meal, try this healthier meatloaf, paired with Mashed Red Potatoes. But don't forget to add a non-starchy vegetable! Try something simple, like this Crispy Baked Broccoli.





Lunch
Easy Chicken Salad Toast
This easy chicken salad is a great way to repurpose leftover cooked chicken. You could also use canned chicken or tuna instead. Add some greens like spinach, lettuce or arugula to your open-face sandwich for extra veggies. For a low carb option, serve as a lettuce wrap instead of on toast.




Three-Minute Skillet Beans & Greens
You probably have everything you need to make this incredibly easy plant-based dish. This dish is packed with fiber from the beans and greens, and gets tons of flavor from a simple combo of curry powder and ground ginger. If you don't have fresh spinach, you could use frozen spinach, or sub in another green like kale or collard greens (heartier greens will need to cook for a few minutes longer).


Nicoise-Inspired Salad
This simpler version of Salade Nicoise relies on pantry staples. You can sub ingredients for what you have on hand—use any kind of salad green instead of arugula; any kind of olive will work, or sub capers or feta cheese for the same savory, briny flavor; instead of tomatoes (or in addition!), use bell peppers, cucumber, sugar snap peas, or any other fresh vegetables. If you don't have bottled dressing, you can make a simple vinaigrette with lemon juice, olive oil, and black pepper.


Breakfasts
Budget-Friendly Vegetable Frittata
Frittata is a perfect budget-friendly breakfast (or lunch or dinner!)—you can experiment with any vegetables you have on hand, and top it all with whipped eggs. It comes together quickly, and reheats well for leftovers. Store leftovers in the fridge for up to 4 days, or you can freeze leftover portions for up to 3 months.



Egg, Ham, and Spinach Sandwich
A breakfast sandwich is a great portable breakfast option. They can be made ahead and frozen for a quick breakfast—just reheat in a toaster oven or microwave. This sandwich is topped with cooked spinach (you can use fresh or frozen) to start your day with a serving of vegetables.




Snacks
Roasted and Spiced Chickpeas
This high-fiber snack is a much healthier choice than chips and is a great alternative for those with nut allergies. Make a double (or triple!) batch and store 1/4-cup portions in to-go containers for a quick snack on the go.





Veggie Dip Cups
Eating raw veggies as a snack is a great way to get more servings of nonstarchy vegetables in your day! Pair your favorite raw veggies with a homemade ranch dip in pre-portioned cups for convenience. If you don't have all of the dried herbs and spices on hand, you could use 1 tablespoon of ranch dressing powder mix instead.




Tips for Budget-Friendly Meal Planning
Eating heathy does not have to be more expensive! Cooking at home is usually much cheaper than eating out, and you have more control over the ingredients, sodium, and fat. Lots of inexpensive ingredients can be featured in a healthy eating pattern, like whole grains, beans, canned tuna, fresh or frozen vegetables, etc. Here are some more meal planning tips to help you reduce food waste and stick to your budget:
Find recipes that use similar ingredients to avoid waste. You can also buy in bulk quantities for a lower unit price.
Save leftovers from dinner for lunch the next day. Before you plate your dinner, set a serving aside in an airtight container for lunch tomorrow. You could also make "planned-overs"—double a recipe to make sure you have leftovers for lunches or other meals later in the week.
Check your pantry and fridge, and plan meals around what you already have on hand. As you're looking at recipes, see if you can sub any of the ingredients for something you already have on hand.
Buy meats in bulk when they are on sale. You can separate and freeze them in smaller quantities at home